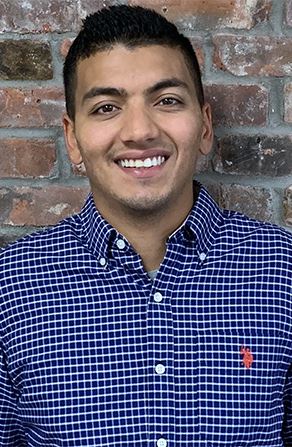 Dr. Anthony Benjamin
Dr. Anthony Benjamin earned his Bachelor of Arts in Psychology from Rutgers University. He then went on to earn his Doctorate of Physical Therapy at The College of Staten Island.
Throughout his academic career, Dr. Benjamin worked in orthopedic, pediatric and neurological rehabilitation treating a wide variety of conditions. He has also participated in research utilizing transpinal and transcortical stimulation in rehabilitation of patients with spinal cord injuries.
Dr. Benjamin has a strong belief in treating the person and not the diagnosis. He understands the importance of building rapport with his patients and making them feel as comfortable as possible. He also understands how complicated pain can be and that's why he approaches pain from many different angles and perspectives utilizing a variety of different treatments. Dr. Benjamin utilizes a variety of manual therapy techniques including joint and soft tissue mobilizations, instrument assisted soft tissue mobilization, cupping and muscle energy techniques. Dr. Benjamin also has a unique expertise in treating pediatric patients specifically newborns and infants diagnosed with torticollis. In his spare time, Dr. Benjamin enjoys serving as a Youth meeting teacher at his church and playing basketball with his friends.
CONDITIONS TREATED
Neck pain (whiplash injuries, muscle strains)
Cervical stenosis
Cervical radiculopathy
Cervogenic headaches
Shoulder pain (impingement, strain, sprain)
Thoracic Outlet syndrome
Rotator Cuff tear (pre surgery and post surgery)
Rotator Cuff tendinitis
Frozen shoulder
Reverse shoulder replacement
Shoulder dislocation
Golfers Elbow (Medial epicondylitis)
Tennis Elbow (Lateral epicondylitis)
Elbow overuse injuries for throwing atheletes
Carpal tunnel syndrome
Wrist pain (sprain/strain)
Wrist snuff box pain (deQuervains Tenosynovitis)
Low Back pain
Piriformis syndrome
Lumbar spine stenosis
Disc herniation
Lumbar Spine Facet dysfunction
SI dysfunction
Hip impingement (Femoral acetabulum impingement)
Total Hip replacement
Hip Osteoarthritis
Gait dysfunctions
IT band syndrome
Patelar tracking dysfunction
Knee Osteoarthritis
ACL repair rehab (pre and post op)
Meniscus rehab (pre and post op)
Runner knee (Patello-femoral pain syndrome)
Knee OATS procedure
Total Knee Replacement
Lateral ankle sprain
Distal ankle fracture rehab
Chronic ankle instability
Ankle Bronstrom surgery rehab
Plantar fasciitis
Foot arch collapse (Posterior Tibialis dysfunction)
Hallux Valgus
TREATMENTS UTILIZED
Range of motion
Advanced manual therapy procedures
Soft tissue mobilization and stretching
Specialized Instrument assisted soft tissue mobilization
Strengthening and conditioning
Functional Exercise prescription
Balance training
Gait analysis and training
EDUCATION
Bachelor of Arts in Psychology from Rutgers University
Doctor of Physical Therapy from College of Staten Island
DOCTORAL EDUCATION
Clinical Anatomy
Clinical Medicine for Physical Therapy
Foundations of Patient Care
Upper Extremity Kinesiology & Assessment
Human Physiology and Exercise Physiology
Structure and Function of Nervous System
PT Interventions & Modalities
Lower Extremity Kinesiology & Assessment
Pulmonary PT
Musculoskeletal Examination and Interventions I and II
Integumentary System: Assessment & Intervention
Neurological PT
Cardiac Rehabilitation
Pediatric Development
Abnormal Pediatric Development and Assessment
Pharmacology
Electroneuromyography & Motion Analysis 2
Clinical Decision Making
Radiology & Imaging
Clinical Affiliations I, II, III, IV