Want to increase muscle mass and strength without lifting heavy weights?
To improve muscular strength and size it has been assumed heavy loads must be lifted. Unfortunately, in certain populations, like older individuals, post-operative patients, or those rehabilitating an injury, high-load exercises can cause injury and not be tolerated. Further, muscle atrophy and weakness is extremely common after injury.
Blood Flow Restriction (BFR) resistance training combines low intensity exercise with reduced blood flow to a muscle, allowing individuals to achieve results similar to high intensity training. Blood flow restriction (BFR) is a training method partially restricting arterial inflow and fully restricting venous outflow in working musculature during exercise.
BFR involves the application of a pneumatic cuff (tourniquet) to the upper arms or the upper legs. BFR can be applied to either one or two of the upper or lower extremities at a time but never all four limbs at one time. The cuff is then inflated to a specific pressure with the aim of obtaining partial arterial restriction and complete venous occlusion. The client is then asked to perform resistance exercises at a low intensity of 20-30% of 1 repetition max (1RM), with high repetitions per set (15-30) and short rest intervals between sets (30 seconds).
The training effect of BFR resistance training has been attributed to a combination of the following BFR mechanisms:
Metabolic stress

Activation of myogenic stem cells

Release of growth hormone

Hypoxia

Cellular swelling
Restore strength and mass after muscle atrophy.
After an injury, there can be a rapid loss of strength and muscle mass surrounding the injury site. The resulting muscle atrophy can negatively impact mobility and function and impede the rehabilitative process. BFR can help to restore strength and muscle mass without the added risk of reinjury or increased inflammation associated with taxing muscles with heavy weight lifting. In many cases, while a muscle may be able to handle a given weight or resistance, we must consider the load threshold and how it will impact the joints and ligaments. For example, if you are recovering after ligament reconstruction surgery your Doctor of Physical Therapy will help you protect the reconstruction by avoiding heavy resistance in the early phase of rehabilitation. However, by deploying BFR early in the rehabilitative process we can begin taxing muscles in such a way that we can promote early strengthening and improved muscle performance.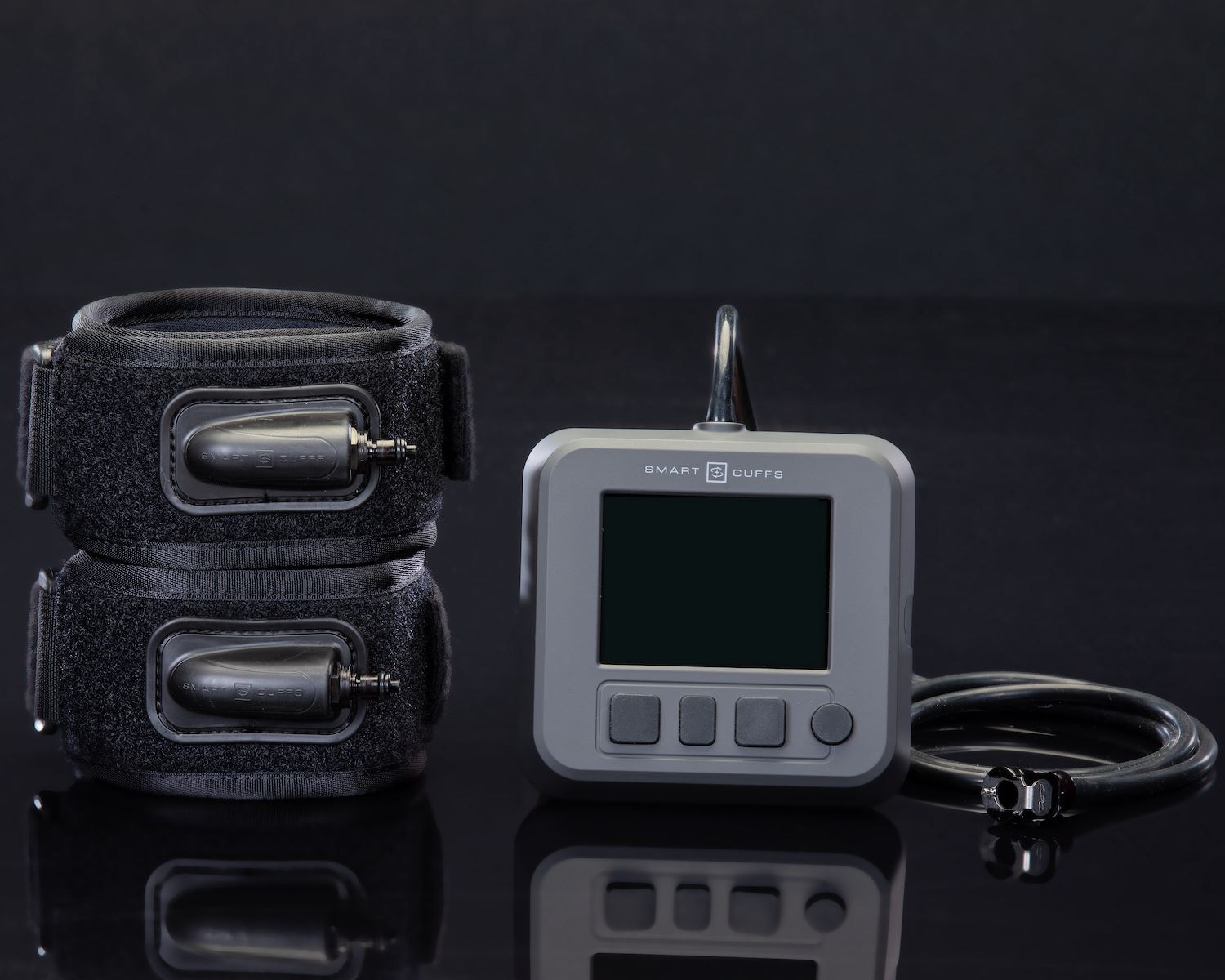 Increase free testosterone and growth hormone.
In addition, a systematic review examining the effectiveness of BFR found that participants training with BFR see a significantly greater increase in free testosterone concentrations compared to the control. Another important factor in developing muscle, serum growth hormone (GH) concentration was also found to have increased significantly more in elderly participants using BFR training techniques as compared to a non-BFR control group when performing identical low intensity resistance programs.
Safety of BFR
A systematic review of available literature found that BFR is beneficial to patients performing this style of training with currently no known adverse effects when dosed properly. In studies performed using patients with heart and renal disease, the use of BFR was not detrimental and even induced some benefits. It appears the greatest advantage of BFR is its ability to safely augment exercise intensity in both healthy and comorbid individuals. BFR is not appropriate for patients with:
Deep vein thrombosis

Pregnancy

Severe hypertension

Venous insufficiency
Call us at (732) 812-5200 today or contact us online to schedule an appointment with our specialists.
Real Patient Reviews
Opinions That Matter The Most
"Excellent service, with some different exercises targeting muscles I didn't know I had. Recommend to anyone in pain."

- Daniel Patrick Aschenbach

"Helpful staff and very attentive. I always felt comfortable going, even through the Pandemic. The therapy helped my shoulder so much."

- Teresa C

"From my first visit to my last visit the staff has always been professional, knowledgeable and friendly. From the moment you walk in the door, you feel the staff cares about your well being."

- Sandy R
Our Goal Is To Help You Acheive Optimal Health & Recovery

We Accept Most Insurance Plans & Offer Care Credit

We Offer Priority Scheduling & Video Consultations

We Use the Latest Technology & the Most Advanced Equipment

We Offer True One-On-One, Focused & Individualized Care

We Have A Team of Highly Trained Doctors of Physical Therapy